This post is the fourth in a series of documenting the artwork of the menus and special features on shows that I own. They're designed in part to also point out the benefits of physical media when getting extra content that isn't available to stream online. I have nothing against streaming, but it'd be nice if all this extra content was online as well.
Batman Beyond is a really cool show. I like it a lot. It's great to see Batman and Gotham in a more futuristic setting. The origin story for Batman here is great as well, it's pretty grim. I never saw this one growing up so it's a new acquisition for me. I've had the DVDs for a very long time, but have never gotten around to watching the entire series.
The DVD complete series package comes with a bonus disc specifically for special features, and has a full on movie documentary called "Secret Origin: The Story of DC Comics" that's an hour and a half long!
I hope you enjoy the screenshots of the DVD menus! I'll be doing the ones for Blu-rays in a separate follow-up post.
Season 1 Disc 1
The main menu cycles through ten different images, so there's a lot of just this menu
Audio commentary on Rebirth – Part One with producers Bruce Timm, Alan Burnett, Paul Dini, Glenn Murakami, and director Curt Geda
Audio commentary on Shriek with producers Bruce Timm, Alan Burnett, Glenn Murakami, director Curt Geda and writer Stan Berkowitz
Season 1 Disc 2
Music of the Knight
Inside Batman Beyond (9:36)
Trailers
Season 2 Disc 1
Season 2 Disc 2
Season 2 Disc 3
Season 2 Disc 4
Inside Batman Beyond: The Panel (11:46)
Trailer: Looney Tunes Golden Collection Volume 4
Trailer: Superman: Brainiac Attacks Original Movie
Trailer: Justice League Heroes Video Game
September DC Comics Kids (trailer for The Batman and Teen Titans)
Trailer: Justice League Unlimited Season One
Trailer: Thundercats Season 2, Volume 2
Trailer: Justice League Season 2 / Superman Volume 3
Season 3 Disc 1
Season 3 Disc 2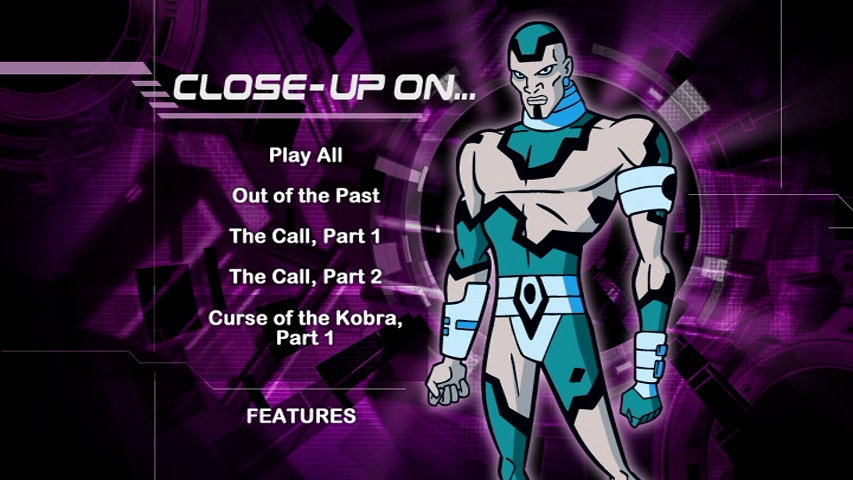 Inside Batman Beyond: Volume 3 (9:29)
Close-Up On: Out of the Past (4:30), The Call, Part 1 (6:18), The Call, Part 2 (4:11), Curse of the Kobra, Part 1 (4:47)
Trailer: Teenage Mutant Ninja Turtles (2007)
Trailer: The Batman Season 3, Teen Titans, Season 3
Trailer: Cartoon Network DVD
Bonus Disc
Tomorrow Knight: The Batman Reborn (10:30)
Gotham: City of the Future (5:34)
The High Tech Hero (5:43)
Secret Origin: The Story of DC Comics (1:30:19) (yes, that's an hour and a half long!)
Trailer: Lego Universe
Trailer: Superman / Batman Apocalypse
Trailer: Batman: The Brave and the Bold Video Game